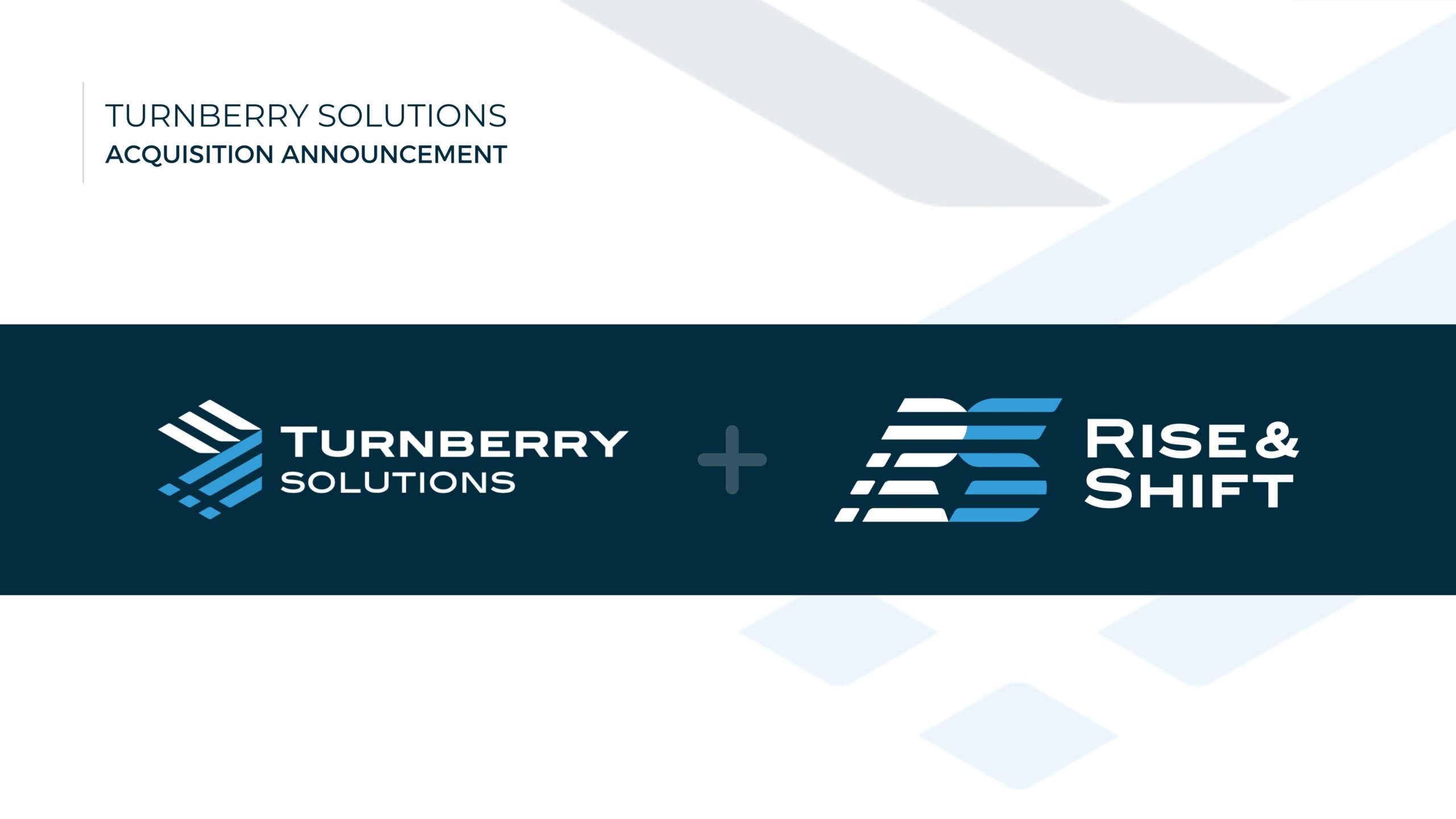 MINNEAPOLIS, Minn. – September 14, 2023 – Turnberry Solutions is pleased to announce the launch of its newest subsidiary, Rise and Shift, a boutique AWS advisory and solutions company. Rise and Shift will deliver premium AWS solutions that empower organizations to simplify their technology landscapes and transform how they do business. This partnership will also enhance the breadth and depth of digital modernization solutions that Turnberry can deliver, reinforcing Turnberry's commitment to providing clients with cutting-edge technology services and expertise.
Rise and Shift comes to life through the collaboration of two senior industry executives, Alok Magan and Chris Howe. Over the course of a 15-year partnership, Alok, a former AWS leader, and Chris, a former SVP in business transformation at a Fortune 500 manufacturing company, delivered multiple multi-million-dollar digital transformation initiatives on a global scale. During this time, they partnered to deliver one of the largest AWS implementations ever performed. Together, they uncovered a shared passion for helping companies transform with AWS – and established Rise and Shift as the premium AWS consultancy they saw missing.
As a boutique, 100% AWS-focused advisory and solutions firm, Rise and Shift specializes in cloud transformation, digital product development, and innovative solutions designed to optimize businesses' operations in the cloud. Rise and Shift simplifies technology landscapes through AWS native services and differentiates capabilities for companies, harnessing data at scale with machine learning, artificial intelligence, and modern business intelligence.
"Rise and Shift's launch represents a significant milestone in our ongoing commitment to providing top-tier technology and business transformation solutions," said Turnberry Solutions CEO Jim Kelly. "Our clients need this tier of AWS expertise, and Rise and Shift will provide them with accelerated solutions that don't yet exist anywhere else in the market."
More than 50% of the Rise and Shift team comprises former AWS employees, all employees hold AWS certifications, and the company's leadership team members were hand-selected for their combined decades of expertise in manufacturing, banking and financial services, life sciences, healthcare, insurance, and sustainability. Rise and Shift's approach to cloud consulting stands out in its resolute bias for action, fail-fast ethos, and complete commitment to being the no-nonsense partner that delivers measurable business impact every time.
The launch of Rise and Shift enhances Turnberry's portfolio of brands, providing expanded solution offerings to clients nationwide and fulfilling a known need in the market: unmatched AWS thought leadership, superior engineering capabilities, and a customer-centric philosophy that makes cloud transformation easier, faster, and more effective than ever before.
About Rise and Shift
Rise and Shift offers an innovative approach to cloud migration strategy for rapid, high-quality impact, outpacing industry giants. Its team of globally renowned AWS experts serves as technology enhancers, business enablers, innovation facilitators, and differentiators, taking clients of all sizes and their cloud journeys to the next level. Learn more about Rise and Shift at riseandshift.com.
About Turnberry Solutions
Turnberry is a national provider of business and digital solutions. The company provides services in three core areas: business transformation, technology transformation, and talent transformation. Turnberry teams are experts in helping clients maximize their investments in consulting to solve their most complex business and technology problems, as well as transforming their teams with top talent. With the capability depth and delivery expertise of a large firm, along with the agility and precision of a boutique firm, Turnberry partners with clients wherever they are to craft custom solutions unique to their needs.
Learn more about Turnberry Solutions at turnberrysolutions.com. For more information, please contact Turnberry Public Relations at PR@turnberrysolutions.com.
Continue reading